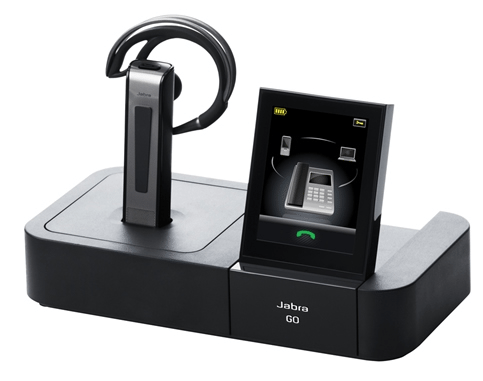 ---
JABRA GO 6400 SERIES BLUETOOTH HEADSET
Touch screen & touch sensors for easy call control
Triple Multiuse connectivity: mobile phone, softphone and desk phone
Easy installation with SmartSetup wizard
Superior sound and Noise Blackout™
Choice of 3 wearing styles for greater comfort
Up to 300-foot wireless Bluetooth® range (80 feet for mobile phone)
Future-proof investment through feature upgrades via Jabra PC Suite
Product details
Stay in touch wherever you go
Jabra GO™ 6400 is the first series of Bluetooth office headsets with user-friendly touch screen and touch sensors for easy call control.
One headset for all your phones
Once you've experienced the liberty of a Bluetooth headset, it's hard to go back to talking while holding your mobile. Why should it be any different with your desk or softphone? With a Jabra GO™ 6400 Series headset, you can always enjoy the freedom of having your hands free – regardless of which phone you use.
Ready, set, GO!
Wear your Jabra GO™ 6400 headset when you're out talking on your mobile phone. Back at the office you can also enjoy instant, seamless connectivity with your mobile, desk and softphone. No matter which line your contacts try to reach you on, you'll always be able to answer just by tapping the headset button.
Unbeatable sound
Featuring state-of-the-art audio technologies, the Jabra GO™ 6400 Series delivers such superb sound quality you'll never want to answer a call without it! A dual microphone Noise Blackout™ system with advanced Digital Signal Processing practically eliminates all background noise, so your voice can be heard clearly even from a noisy location. Wideband quality ensures that the sound you hear is crystal clear, while SafeTone technology protects your hearing by cutting off sudden loud noises and securing safe average sound levels through the day.
User-friendly touch screen base
With Bluetooth, USB and telephone support, the stylish Jabra GO™ 6400 touch screen base is the key to uniting all your phones. A SmartSetup wizard helps you connect phones and select preferences to get started. Once you're up and running, the screen's colorful icons and intuitive menu make call handling a breeze.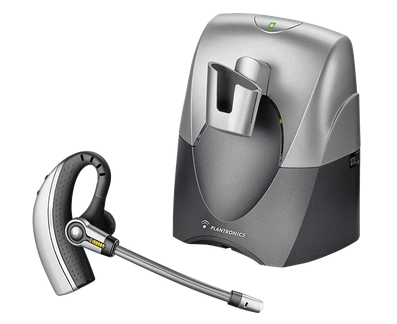 ---
PLANTRONICS CS70 WIRELESS OFFICE HEADSET SYSTEM WITH LIFTER
Communicate in style and unmatched comfort with the Plantronics® CS70 Wireless Office Headset System. Ideal for on-the-move office executives, the CS70 boasts a lightweight, over-the-ear design that combines sophisticated style with all-day wearing comfort. Whether moving between meetings, conferring with colleagues, or taking calls in offices, executives can use the CS70 to go wherever business takes them—up to 300 feet from their desk phone. Leading-edge, voice-dedicated DECT 6.0 technology provides best-in-class audio quality, digitally-secure communications, and the lowest probability of interference with other wireless devices. The discreet Voice Tube delivers superior audio clarity.
Product Features:
Lightweight and sophisticated over-the-ear design delivers all-day wearing comfort
Roam hands-free up to 300 feet from your desk phone
One-step remote answering makes it easy to stay connected
Discreet Voice Tube assures sound quality and comfort
Included lifter automatically lifts handset and returns it to the cradle
Enables remote or one touch call answer/end with your Plantronics headset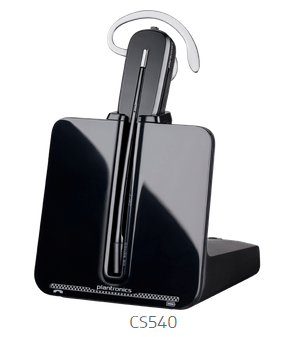 ---
PLANTRONICS CS500 WIRELESS OFFICE HEADSET SYSTEM WITH LIFTER
First we made it lighter. At only 21 grams, the CS500 Series features the lightest DECT™ headset on the market. That means all-day comfort for all-star performance.
Then we made it better. Increased range for maximum mobility, one-touch controls, energy efficient power management, simple plug-and-talk installation — the CS500 Series does it all.
Make a good call with the new standard in wireless desk phone headset systems.
Product Features:
Range up to 350 feet away for maximum mobility
Three wearing choices for tailored comfort
Premium wideband audio quality
One-touch call answer/end, vol +/-, mute and flash controls
Smart power management system optimizes for range and talk time
Conference in up to three additional CS500 or Savi headsets for enhanced collaboration
New headsets can subscribe to a base by simply docking the headset
Use with Electronic Hookswitch Cable or Handset Lifter to remotely answer/end calls
Don't Be Shy
Drop us a line anytime and a member of our customer service team will respond to you as soon as possible.